What is an angle grinder and what it is used for?
An electric angle grinder machine is a handheld power tool that can be used for a variety of metal fabrication jobs that include cutting, grinding, deburring, finishing and polishing. It is also can be uses for other solid materials such as bricks, aluminum, stone and concrete.
The most common types of angle grinder tools are powered by electricity; It can be categorized with either corded or battery powered.
What makes an electric angle grinder machine?
An Angle grinder can be powered by an electric motor or compressed air. The motor drives a geared head at a right-angle on which is mounted an abrasive disc or a thinner cut-off disc, it can be replaced when it is worn. Normally an Angle grinder has an adjustable wheel guard and a side-handle so that you can grip it with two-handed operation.
Usually, angle grinder made by these following major items:
Wheel guard,grip handle,abrasive wheel,Plastic shell,motor,switch and power plug. Here is an example of dewalt angle grinder illustration will be stated clearly: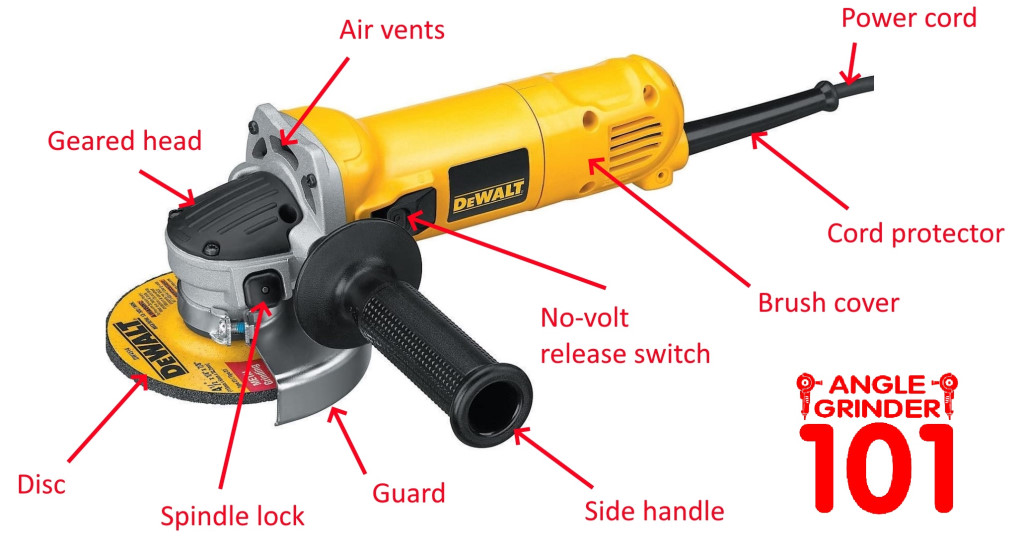 Angle grinder power switch types
And an angle grinder power switch can be vary at customer's needs,Here i present 3 types of switch for your reference. Which type of switch you choose, it depends on your customized needs
What Is A Slide Switch?
A slide switch or lock-on switch is often fixed on the top of the angle grinder machine. You can pull the switch to the "ON" position to turn the grinder machine on, and it will keep working until you make the switch to the "OFF" position. If you your grinder lost control while working, the grinder keeps running, and the wheel keeps spinning, it may cause damages to you, the people around you, and the working surface until you turn it off.
Slide switch just as following shows: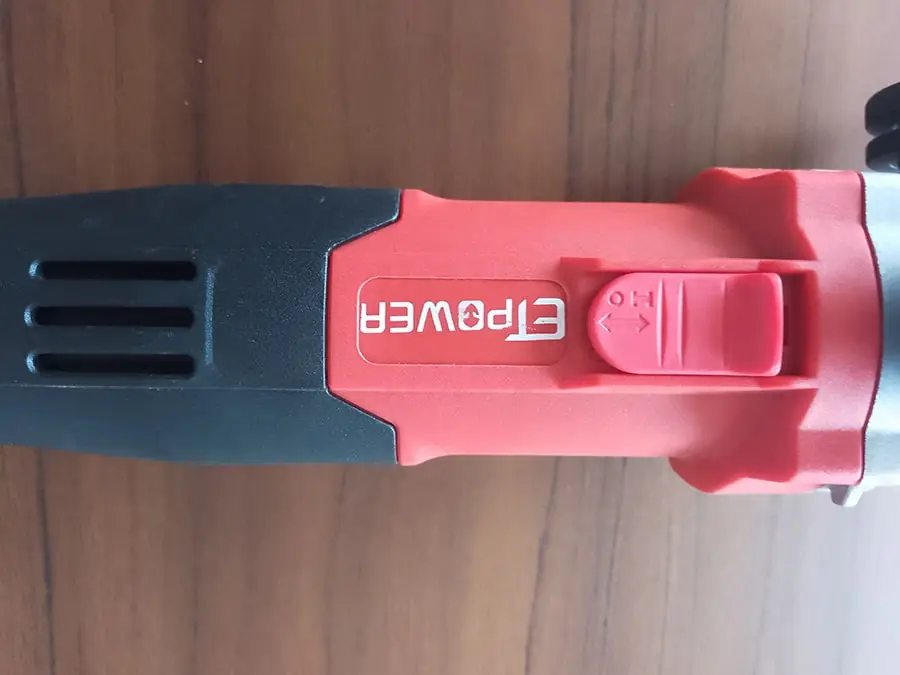 What is a paddle/trigger switch?
A paddle/trigger switch or non-locking paddle switch is often fixed at the side of your angle grinder's handle. When you grip the handle, you also hold down the switch and keep the tool running.
You can grip the handle and hold down the paddle switch continuously to keep the machine working, to stop the machine working,just release the paddle switch.
So If you lose control of your grinder, just keep your hands out the machine, then the angle grinder will stop working immediately. Thus, this upgraded switch has enhanced safety versus the traditional slide switch.
Paddle switch is as just like following image shows: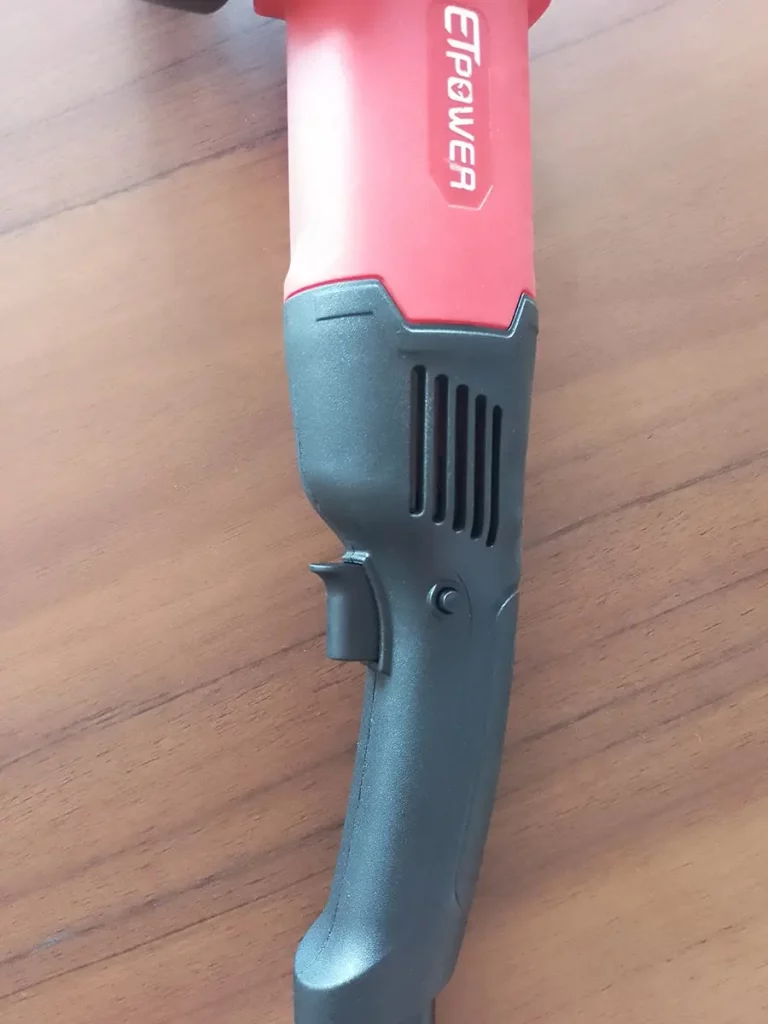 What Is A Toggle Switch?
And there is also a third type of switch for angle grinder. The switch placed at the rear of the handle. Let's call it Rear Toggle switch. Toggle switch is just like slide switch, but only on the rear of the handle.it will keeps working until you make the switch to the "OFF "position.
As you can see the switch fixed at the rear of the handle of angle grinder machine. Just like following picture: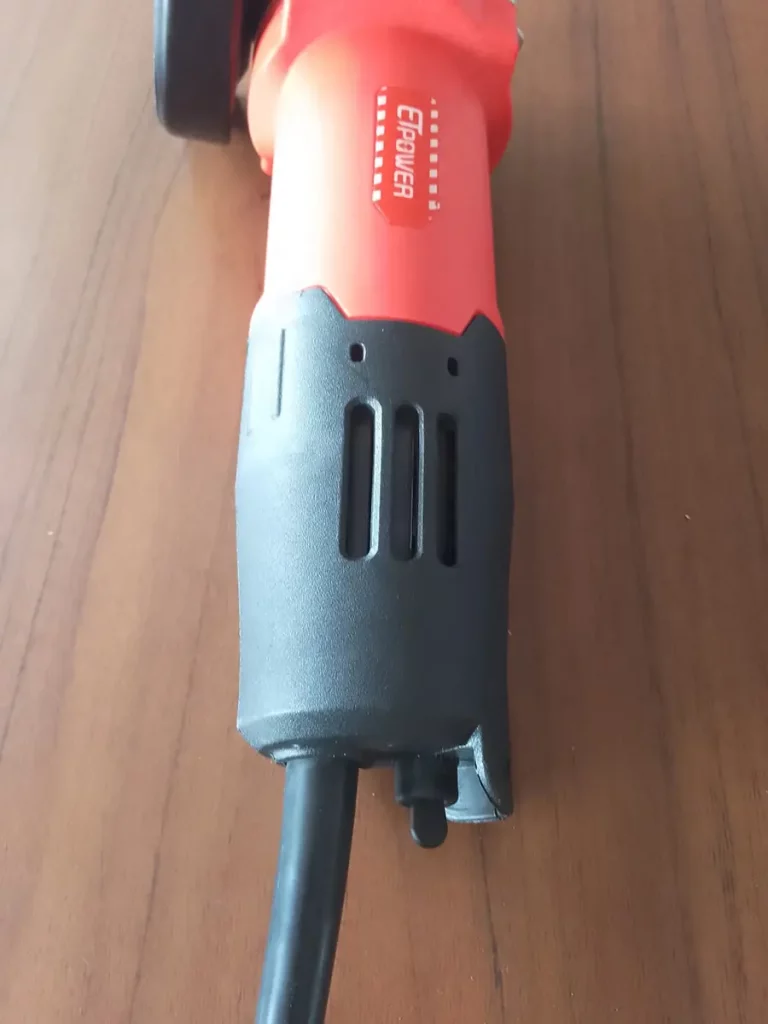 And for the grinding wheel size, there are also kinds of regular size you can choose.
100mm(4-inch)
115mm(4.5-inch)
125mm(5-inch)
230mm(9-inch) etc.
Which size you choose ,it depends on your customer's needs. Grinders with larger discs are particularly well suited to heavy-duty applications, whereas those with smaller discs are ideal for finer work.
Here is a video of one model of our ETPOWER angle grinder for your reference